Hello Bloggers! I wanted to post and let you know some exciting news! I have been honored by being selected as a Design Team Member for the Fantabulous Cricut Challenge Blog.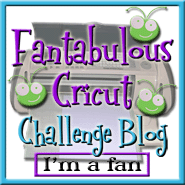 I want to thank everyone for following me and encouraging me with all of your wonderful comments.
Please keep coming back and checking out all of the Fantabulous Cricut projects. Stop by today and see what this week's challenge is!